Miss World
Margie Medlin: Miss World (2002)
Video and computer graphics installation
Installationview
© Margie Medlin
Margie Medlin: Miss World (2002)
Video and computer graphics installation
Installationview
© Margie Medlin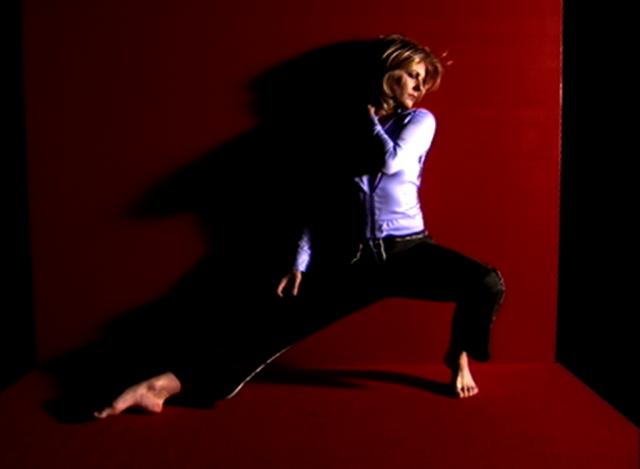 Margie Medlin: Miss World (2002)
Video and computer graphics installation
Installationview
© Margie Medlin
premier:
"Future Cinema. The Cinematic Imaginary After Film", ZKM | Karlsruhe (D), 11/16/2002-03/30/2003
technique/material/hardware, software:
Hardware: 3 suspended projection screens 3 video projectors Software:
dimensions:
10:05 min., loop, color/ sound projection screens: 2 screens h/w/d: 1.80 x 2.50 x 0.15m; 1 screen: 1.80 x 2.40 x 0.15m installation space: approx. 7x3 m
credits:
Concept and realization: Margie Medlin Sound design: Stevie Wishart Choreography, dance: Rebecca Hilton Director of photography: Benjamin Speth Editor: Martin Fox Motion control camera-operator: Scott Inglis, Gerald Thomson Motion capture and figure animation: Holger Deuter, Martin Winkler, Special thanks to DNA Digital Nature Arts, Speyer, Micronite Film Productions, Asia-Pacific-Video lab, Kuala Lumpur The project was realized in the scope of a residency at the ZKM | Institute for Visual Media supported by the New Media Arts Fund of the Australia Council for the Arts initiated through the Victorian Commissions funded by the Victorian Community Support Fund of the Victorian Government.
producer:
ZKM | Institute for Visual Media, 2002.
Location in the exhibition: